Giving Game Guide and Fundraising Tips
Welcome to the MD SPCA's Giving Game.
This guide will tell you how to play and earn points. Your points win you exciting prizes. Get ready to have fun while making a pawsitive impact on Maryland's pets! Click on the section you would like to know more information about.
ACCEPT THE QUEST
Your goal, should you choose to accept it, is to raise funds on behalf of the Maryland SPCA and earn points for every dollar you raise. You can play on your own or as part of a team. You will get credit for the points you secure, even if your dollars feed a team's goal.
Beware: accepting this quest will maximize your impact on the Maryland SPCA's pets and unlock pawesome prizes.
CREATE YOUR CHARACTER
Every game has some way to distinguish you from all the other players. In the Giving Game, that's your fundraising page. Even if you have raised money for the MD SPCA before, you need a page for this campaign. Create a personalize page or join/create a team at https://support.mdspca.org/festivalP2P. If you want detailed instructions or suggestions about how to raise money, visit our Fundraising 101 Guide below.
ROLE THE DICE
Use your fundraising page to spread the word throughout your network. You have a goal, and you would like them to help you meet it. You might be surprised by how many people say "yes" when you ask for their help. To easily track your points, please encourage your friends to make their gifts on your fundraising page. Cash or checks must be received by the MD SPCA before September 23 and must clearly state that the monies are for your fundraising efforts. Monies delivered onsite at the Festival will not be counted for points in the Giving Game.
EARN POINTS
For individual prizes
You earn one point for every dollar you raise. You also earn one point for every gift you inspire. For example:
Jack's mom gives him $100 for the Festival—Jack earns 101 points, one point for every dollar and one point for the gift.
Sally's 10 friends each give her $10 for the Festival—Sally earns 110 points, one point for every dollar and ten points-one for each gift.
The more points you accumulate, the more prizes you'll be eligible to win. Prizes include MD SPCA items and gifts from our sponsors.
Side Quests and Bonus Points: Keep an eye on Maryland SPCA's social media and emails for a chance to enter fun challenges and win bonus points! The first side quest is worth 5 points: Buy a ticket for the Festival.
For mystery raffles
Over the summer, the MD SPCA will offer mystery raffle prizes. When all fundraisers collectively reach a dollar goal, another prize will be unlocked and raffled off. The more dollars raised, the more will be revealed.
COLLECT YOUR PRIZES
The MD SPCA keeps track of all points and is the final arbiter of prizes won. Prizes can be collected at the Festival on Saturday, September 23. More details will follow as the event approaches.
So, you accepted the request. Congratulations! You're on your way towards changing more pets' lives for the better and unlocking pawesome prizes along the way.
But wait! I'm not a fundraiser!
That's ok. You've probably asked for a trillion things in your life…to get ice cream on the boardwalk, to stay out late, to go on a date, to borrow the car…you really are an old hand at this. You just didn't know it. Here's the trick—people respond to people. It's your story that will inspire others. Family, friends, even people you don't know well want you to be successful and achieve your goal.
So, let's get started…
LEVEL 1: Start a Fundraising Page
If you haven't already, visit https://support.mdspca.org/festivalP2P and click BECOME A FUNDRAISER and decide whether to join the game as an individual, to join a friend's team, or to create a team.
The system will prompt you to set up an account by answering the following questions:
How much do you want to raise? The website defaults to $500 for individuals and $1,000 for teams.
What do you want your headline to be? It could be simple like "Fluffy's Pet Parent" or inspiring like "Let's be heroes!"
What is the name of your fundraising page? This is the link you will give family and friends to make a gift online, so make it memorable. For example, type in your pet's name and your link will be https://support.mdspca.org/Fluffy.
Please allow us to contact you in the future so we can alert you when you've won a prize.
Add a photo or use the default festival logo.
Provide your contact information and tell us a little bit about you.
You will be sent to your page. Time to level up.
LEVEL 2: Write Your Backstory
Click MANAGE in the upper right corner of your fundraising page to personalize it.
Every hero has a story…what's yours? What's on your page makes you stand out from every other thing someone is asked for.
Why do you support the Maryland SPCA? By sharing your perspective, you'll inspire others to contribute and support the Maryland SPCA's mission.
Not sure how to begin? Try following this outline:
Introduction:

Introduce yourself and explain your connection to the MD SPCA. For example, maybe you're a long-time supporter, a volunteer, or perhaps you have adopted a pet from us. What set you on this quest?

Personal Connection:

Share a personal story or experience that has touched your heart and motivated you to support the MD SPCA. For example, What is your favorite pet memory? Describe an uplifting experience with your pet or a pet you encountered at the MD SPCA.

Impact of the MD SPCA:

Explain why our mission – to improve the lives of pets and people – is important to you.
Here's an example of a backstory: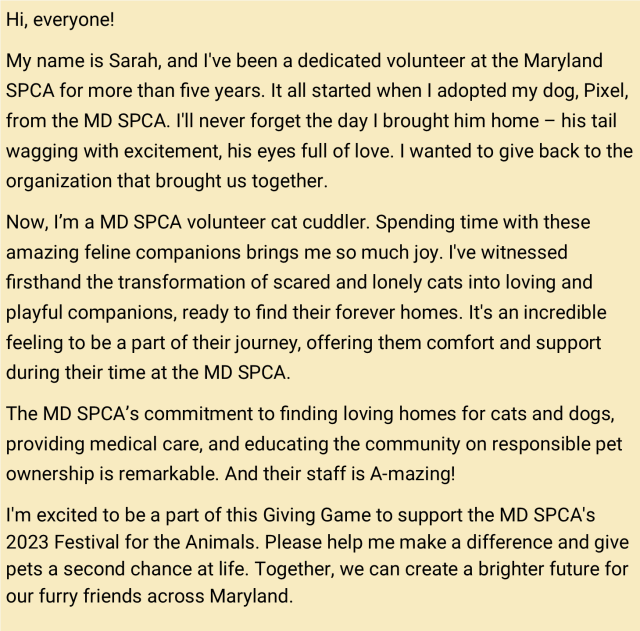 Remember: You want others to understand why the Festival and the MD SPCA are important to you. Your backstory should reflect your personal experiences and passion for the MD SPCA.
LEVEL 3: Share Your Story & Ask for Support
Now that you have your story down, it's time to share your fundraising page with your network.
Where should I share?
Social Media:

Post on your favorite accounts whether that's Facebook, Instagram, Twitter, TikTok, Nextdoor or another platform. Include a photo of your favorite pet to grab attention, and don't forget to include a link to your fundraising page to make it easy for people to contribute!

Email:

Send personalized emails to your friends, family members, colleagues, and other contacts who might be interested in supporting you.

Offline:

Don't forget to talk in-person about your fundraising efforts with family and friends. Let them know how important this work is to
Tip: Each time you share a fundraiser page in a new way, it can more than double visibility.
How do I share?
Remember, people want you to succeed. They'll be moved by your story. So, personalize your message and tell the receiver what you want. Here are some examples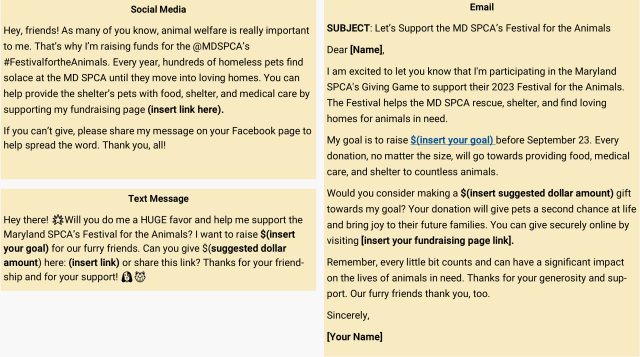 But what if they say "no"?
Not everyone may be able to contribute, even if they're cheering for you…and that's OK! If someone declines your request:
Express Your Gratitude:

Thank them for considering your request.

Stay Positive:

Don't be discouraged by a "no." Continue to share your fundraising efforts with others who might be interested. Not every part of your quest will be perfect, but you can succeed.
LEVEL 4: Thank Your Network
When someone makes a gift through your fundraising page, you'll receive an email notification. Send them a thumbs-up and a heartfelt thank you for their contribution. Here are some examples:

Remember: People respond to you. So, keep in touch with your network whether they were able to give or not. They still want to hear about your success. Share updates on your progress, express your gratitude, and continue spreading the word about the Maryland SPCA's Festival for the Animals.