We're so excited to share the new MDSPCA.org! We tore down our old site and rebuilt it from the ground up. Everything's been improved. There's not enough space on the internet to list every improvement. But let's look at some new features.
It's easy to get around.
Our old website was hard to navigate. You probably got lost. We did, too. The new site fixes that. If you want to adopt, volunteer, or donate, you can do that right away.

If you want to dig deeper, just paw that mega menu. It'll show you everything on the site, broken down into clear categories.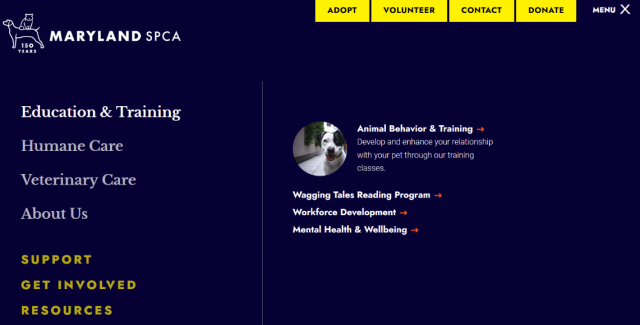 See what makes this place special.
We love our pets. We're proud of our staff and volunteers and the work they do every day. Now you get to see what it's like at the Maryland SPCA.
Across the website, you'll see photos of our animals, our people in action, kids in our reading programs, happy adopters, and our first-rate facilities. By the time you're done browsing, we know you'll agree this place is something special!
This is the pet you're looking for.
We redid our adoption system! New search filters narrow things down. Pet profiles have more info and photos. (These guys love to mug for the camera!) There's also an "Ask About Me" button so you can send us questions. We'll reply to you by email.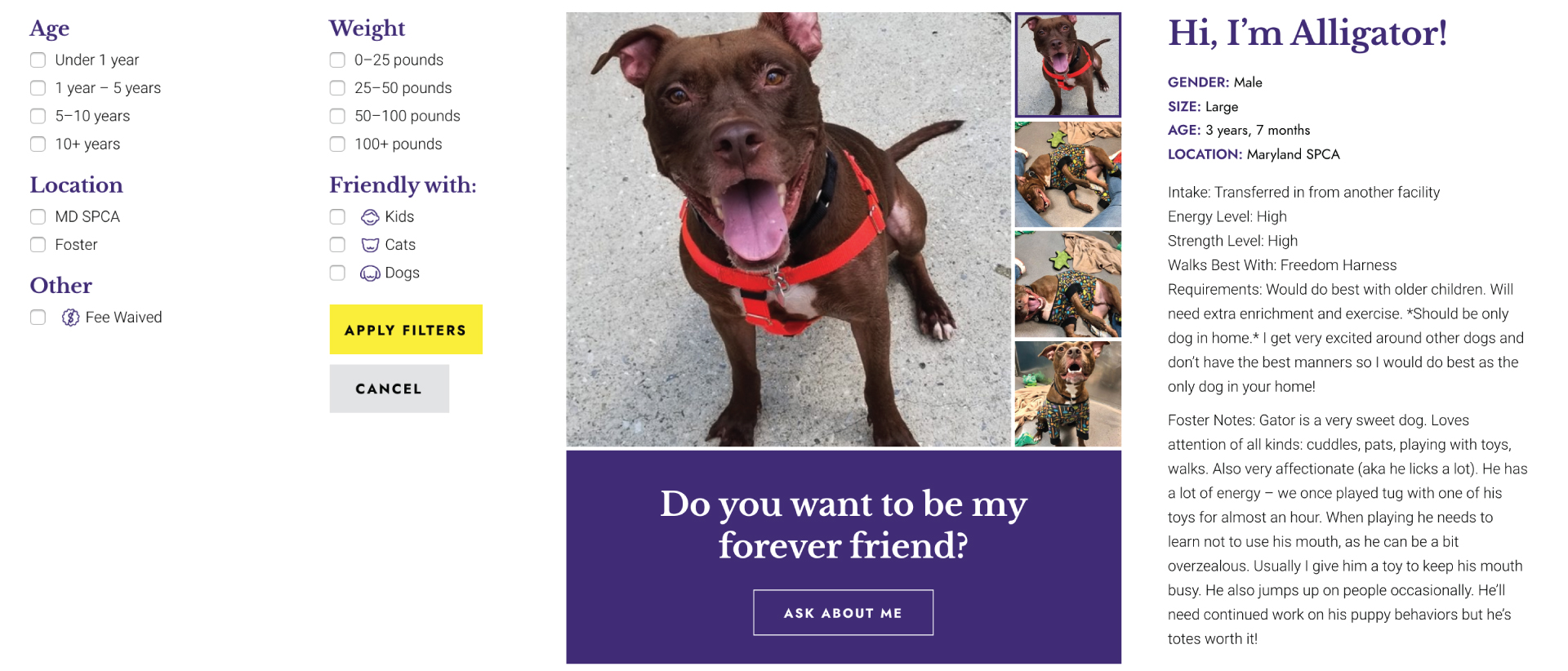 Get life-saving info and free training tips.
Be sure to check out our resource library. We have expert training advice, adoption and fostering guides, and health information to protect your pet. It's broken down by category, so you can find what you need without sniffing everything!

We're all in this together.
This isn't just about a website (even though we think it's really cool). We built this site to help more pets and people and serve our community better. But we can't do it without you. Now's the time to volunteer, make a donation, adopt a pet, or enroll your kid in our reading program.
After 150 years, the Maryland SPCA is just getting started.